Sightseeing tours in Ljubljana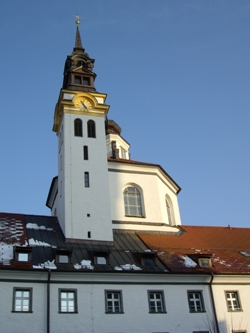 Ljubljana Bus offers you the possibility to order quickly and with ease buses and minibuses for your sightseeing tours to Ljubljana and surrounding Slovenia. If you are interested in the reservation of a charter bus for a sightseeing tour in Ljubljana, the following attractions could be of interest to you:
Major tourist attractions of Ljubljana
Ljubljana is a city that has much in common with the most beautiful cities of Austria, but that does also remind of italian cities, especially in the old town. Among the many important architects that marked the cityscape of Ljubljana are Jože Plečnik, a pupil of Otto Wagner who created several well-known buildings in Vienna, and the Jesuit priest Andrea Pozzo from Rome. Some buildings you might wish to visit while travelling to Ljubljana are:
the Ljubljana fortress,
the town hall of Ljubljana,
the Franciscan church on Prešeren square,
the St. Nicolai cathedral,
the archbishop's palace and
Ljubljana's old town.
Whereas it is easily possible to discover the sights of Ljubljana's city centre by foot, a guided city sightseeing tour with one of our coaches or minivans offers you the advantage to be able to see the out-of-town attractions of Ljubljana as well, saving an important amount of time. Depending on your personal interests, we are ready to include many different attractions into your sightseeing itinerary, such as: the Ljubljanica terraces south of Saint Jacob's bridge, the railway museum of Ljubljana or the autonomous social centre Metelkova with its many artistic activities.
As for the programme of your sightseeing tour to Ljubljana by bus, the staff of Ljubljana Bus proposes you two fundamentally different choices:
City tours according to our suggestions: should you wish to book your tour bus and your tour guide through our company, you don't need to think about the exact route of your Ljubljana city sightseeing tour. Our experienced tour guides will gladly lead your tour the way they deem appropriate in order to provide you with a pleasant and memorable experience.
City tours according to your ideas: besides, you also have the possibility of booking just the coach with us and to design the itinerary of your city sightseeing tour to Ljubljana yourself (e.g. to include special tourist attractions like the art nouveau buildings in Ljubljana). In this case, we will gladly follow your preferred route and provide you with the required bus service only.
Order sightseeing tours in Ljubljana
To order a city sightseeing tour to Ljubljana by bus or minivan, please write us to . The staff of our charter coach reservation office will be glad to advise you, to answer your questions quickly and thouroughly and is looking forward to your message!