Sightseeing bus tours from Ljubljana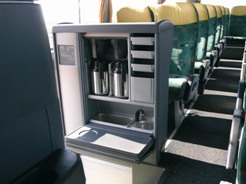 Thanks to its exceptional geographical situation, Ljubljana is an ideal place to start sightseeing excursions to Slovenia and its neighbouring regions Julian March, Friuli, Carinthia, Styria, Hungary and Croatia as well as bus tours to destinations anywhere in Austria and Europe. The staff of Lubljana Bus will gladly provide you with buses of different size as well as with chauffeur-driven minibuses for your sightseeing tours and bus excursions. Among others, you can book the following coach tours and sightseeing trips with Ljubljana Bus:
Bus tours to the surroundings of Ljubljana
Bus tours to Europe
Bus tours to Austria: thanks to its immediate neighbourhood to Austria, Slovenia is a good place to start a bus tour to the Austrian Danube with the cities of Vienna and Linz or to the Austrian Alps with the cities of Salzburg and Innsbruck. With pleasure will the staff of Ljubljana Bus help you arrange a tailormade tour to Austria together with professional Austrian tour guides.
Bus tours to Germany: the distance between Ljubljana and Germany isn't great either. In only a few hours, you can reach Bavaria and its capital Munich, which is the ideal location to start your sightseeing tours to Bavaria. Furthermore, our buses and minibuses will also gladly take you to other interesting places in Germany, including Stuttgart, Dresden and the German capital Berlin.
Bus tours to Italy: situated right next to Slovenia, the fascinating country of Italy provides many interesting destinations for sightseeing tours by bus. Besides the already mentioned cities of Venice and Trieste, the buses of Ljubljana Bus can also take you to any other destination in Italy. We particularly recommend you tours to the "Romeo and Juliet" city of Verona, to the cultural strongholds Florence, Rome and Naples and to the romantic city of Catania in Sicily.
Bus tours to other destinations: it's utterly impossible to cite all possible destinations for bus travel in Europe on this page. In any case, we would be pleased to take you wherever you wish to go: the charter buses and minibuses of Ljubljana Bus are at your disposal and our experienced bus drivers from Slovenia would be pleased to travel with you.
Rent coaches for bus tours
Should you be interested in renting a coach for a sightseeing tour in Slovenia, a bus excursion from Ljubljana or a bus tour across Europe, then just go ahead and send us your request to . Let us know the desired dates, destination and criteria of your tour as well as the number of travellers, and our competent office staff will provide you with a tailor-made offer for your sightseeing excursion within the shortest possible delays!